Let me start this blog post off by saying I LOVE Sarah M Credit.
I met her through being an ARC reader for her book, The Raven and the Rush, which is absolutely fantastic and if you haven't read it yet, you truly need to. I can't tell you how happy I am to have met a human as fantastic as Sarah. She is so genuine, and always helpful to me in any questions I have about being a new author. I absolutely cannot wait to meet her in person next year, and I'm happy to be able to call her my friend.
Okay okay, I'm sorry for getting sappy but I can't help it! (Also shoutout to Emily, her PA, for being another absolutely fabulous human being that I carry a lot of love for).
But ANYWHO, The Altruist and the Assassin is part of the Book of all Things series. The books can be read as standalones, but all take place in the same world, sometimes in the same time period.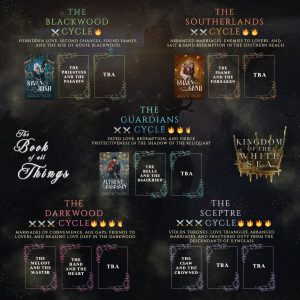 She even has all of the books organized in a fantastic chart! The books are apart of different cycles with different violence and spice levels, so there's something for everyone to enjoy! I have read all of the books pictured, and will read off of them coming. She never disappoints, I promise.
So specifically getting back to The Altruist and the Assassin, I will post the blurb below. Of the three books already released in the series, this one has got to be my favorite. I just absolutely LOVED the MC and her love interest. Sarah can do no wrong for me, and I enjoy anything she writes.
Here is the official blurb:
"She's searching for redemption. What she finds is her destiny.
From the USA Today Bestselling Author of Kingdom of the White Sea comes a new series of standalone fantasy romance tales set in the same vibrant world: The Book of All Things. Disappear into this tumultuous tale of revenge and redemption, as two fated souls are thrust into each other's paths once more.
Rhiain enjoys a charmed life as the daughter of one of the most powerful men in the realm. Spoiled and vain, she has never met a need or want she couldn't attain. The dark spots in her memory have been tucked away, with all other unpleasant things.
Then a terrible mistake brings her entire world crashing down around her. Her life shifts in an instant; her fate, uncertain. Her father's punishment for her is forcing her to train for a life as one of his prized assassins.
But a chance encounter in a familiar tavern will change everything.
Everything she knows.
Everything she feels.
Everything she is.
As Rhiain gets closer to handsome, enigmatic Asterin— a man she doesn't remember but claims to possess the truth about her dark spots—she begins to accept there is much more to these gaps in her understanding of the past.
Because these memories were taken from her for a reason. And there are those who will do anything to stop her from remembering.
The Altruist and the Assassin is a standalone fated love fantasy romance tale set in the Kingdom of the White Sea universe, with hints of Rapunzel and Sleeping Beauty."
Make sure you go check it out, and demolish it ASAP!